You want to take backup of your cPanel account but having no idea how to do that. Well, that's not as much difficult as you are having a well designed backup wizard in your hosting control panel.
cPanel control panel provide many tools in graphical interface through which you can manage your whole account through few click. It provide a very simple tool to take backup of your account by making few clicks only.
Restoring is also that much simple through cPnael. The backup wizard also provide the facility to restore your backup of your website.
1. How to locate the Backup icon or wizard in your control panel:-
The very first step of backup is to locate the backup icon in your control panel (cPanel). There you will find two icons for Backup, we will go with the "Backup Wizard" icon. Click on that icon.

2. Start the backup (Partial or Full backup):-
The next step to take backup is to decide whether you want whole account backup or you just need partial backup of your account like mails, database, home directory of your account etc. Here home directory includes all your files which are owned by you and also that accessible by you.
The files which are not owned by you and are in-accessible are not included.
Now, If you want to take full backup of your account you can opt for option "Full backup" else if you need any partial backup for your account you can opt partial backup too.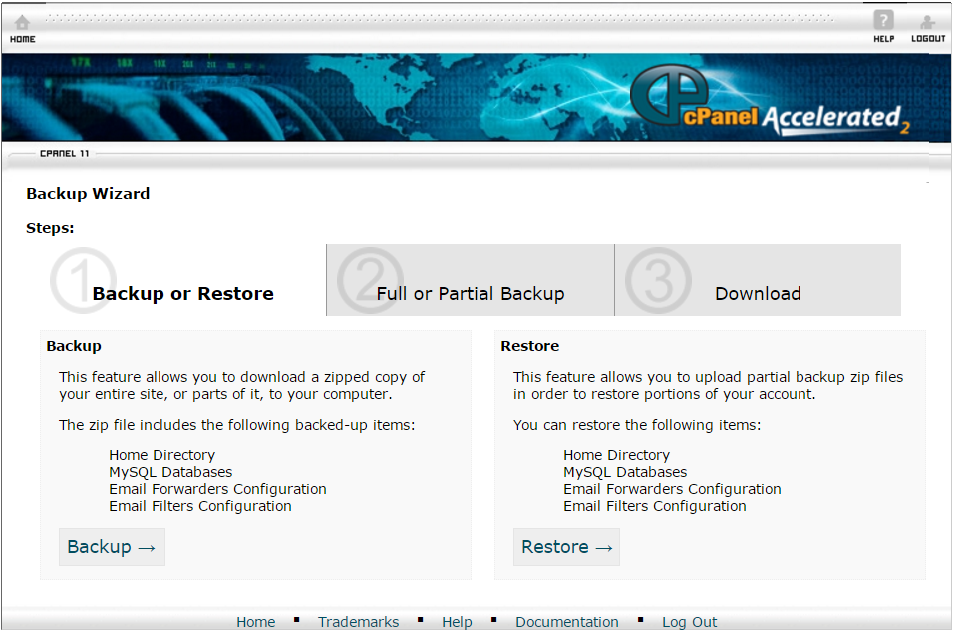 3. Where to save/store your backup:-
Now, after selecting the backup that what you want to take either partial or backup, thing comes in mind is where to store the backup. You can store your backup wheter in your home directory of your account or you can take backup in your machine(PC).
Let us assume we have chosen backup for home directory. While taking backup it will ask for for email account on which it will send a mail regarding completion of succesful backup.
For FTP transfer to you local machine (PC), it will ask for the connection details and also prompt for email address to send email for successful completion of backup.
4. Restoring the backup files:-
Now the question comes in mind after this backup process, how to restore backup data if any need comes.
cPanel made it's as easy as backup process was earlier. Just with few clicks you can restore your backup data in your account .
To restore you have to go to "Backup Wizard" and click on "Restore" option in control panel. Now, you have to select what you want to restore in your hosting account like (home directory, emails, databases) and select the location from you want to restore the backup files.
Note: For complete restore process you have to do things one by one like first, you have to restore home directory then databases and then email accounts and so on. In this process you have to go through this restore process several times for each part of restore.