It is common for Microsoft Outlook to reschedule a send/receive for every 30 minutes automatically. Some of the users feel this as an unwanted or necessary feature as it doesn't meet their needs. For instance, some of the user may wish to have a rescheduling feature for every 10 minutes. There are users who wish to have this automatic Send/Receive Group scheduled at a time interval of one hour too. The typical rescheduling for every 30 minutes will be never appreciated or preferred by the user.
A main symptom that indicates that you may face this problem is when starting "Microsoft Outlook" you will find that the Outlook is not able to function on send/receive operation for downloading messages from the link or serer. This error or problem usually occurs when a send/receive Outlook within a group gets damaged.
So folks, in this article let's see an easy method for adjusting auto send/ receive timing in Microsoft Outlook on the basis of your comfort zone. The given steps below are the steps that should be followed for adjusting the time intervals and functions of automatic send/receive time in Microsoft Outlook.
Click on the Tools >> Send/Receive. Then go for the option "Send/Receive Settings >> Define Send/Receive groups".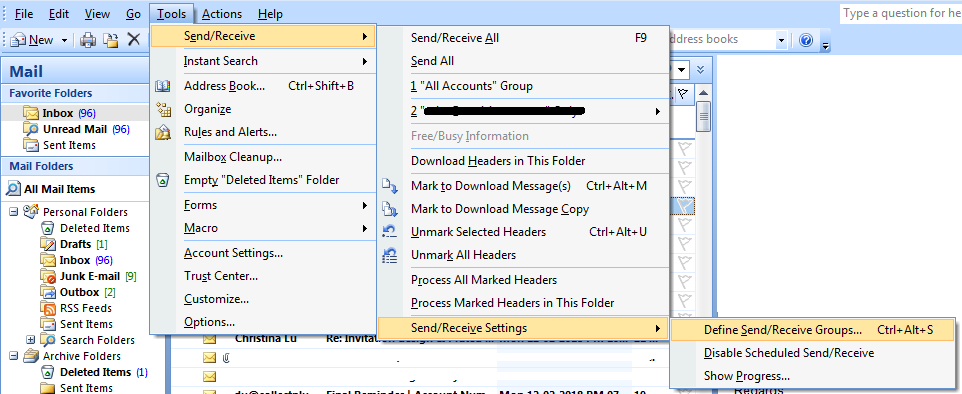 The next step is to look for the Send/Receive Groups dialog box.
Click on the Send/Receive group for which you need to change the time interval settings in the group list.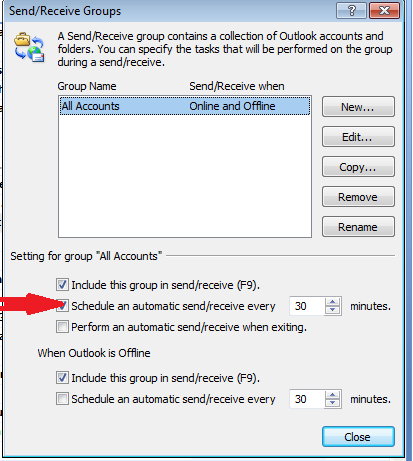 The option of "Schedule an automatic send/receive every x minutes" should be checked clearly.
No fill or enter the required time interval for the Send/Receive option in the required box. For instance, if you need to change the automatic send/receive time interval in the Microsoft Outlook to two hours, then fill the box with "120".
The facility or feature of checking the schedule timing for automatic send/receive in offline is also available. The time interval can be checked, changed and entered in the box.
Now tap on the "Close" button so that you can exit the dialog box.
That's all folks! You are ready to go. These are the final and total number of steps for changing the timing or scheduling different time intervals for the option of automatic Send/Receive Groups in Microsoft Outlook. This feature allows you to set or choose various time intervals for automatic send/receive option in the basis of your comfort zone.
The procedure or steps mentioned in this article applies to Microsoft Office Outlook 2007, Microsoft Office Outlook 2010, Microsoft Office Outlook 2003, Microsoft Office Outlook 2016 and Microsoft Office Outlook 2013. Hope this article on "adjusting auto send/receive time in Microsoft Outlook" has helped you and cleared you in the procedures for adjusting the time intervals on the send/receive groups on the basis of your comfort zone. Thank you folks!