Webmail offers various webmail clients to their user. Like Horde, RoundCube and Squirrel mail, All these webmail clients are used to manage or view your email accounts. From all these three accounts only Horde is provided the service of import and export of email.
In this article, you will know how to import and export your emails through Horde.
If you want to import your emails in the horde, then you can import your emails into a new folder or in your inbox. you can easily create a new folder for your new emails in horde and import your all emails in this folder.
To create a new mail folder in Horde:
First, click on "Folder action" icon on left-click.
Then Click on "Create mailbox" icon.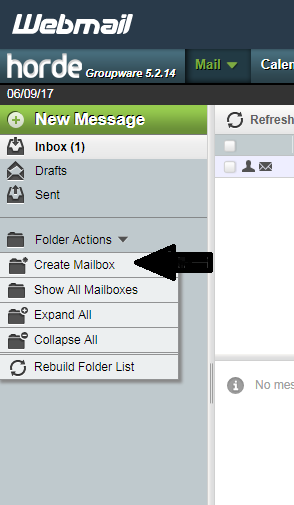 After clicking on "Create mailbox" popup enter the name of folder and click "OK"
Your new created Folder will appear on left Collum of the horde.
How to import emails from horde:
First, start with right click on the folder where you want to import your emails.
Then in the menu select "Import" option.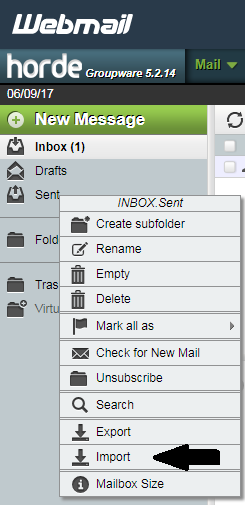 In popup browse your file which you want to target and then click on "Ok" button.
After that, you can get a green color message bar that your email was successfully imported.
If you failed to import the message then you will get a red display bar with message "could not parse mailbox data"
How to Export emails from horde:
It's a great idea to create a backup of all the import emails folders and horde allow you to do that very easily.
To export your emails via horde first, click on the folder from where you want to export emails. For instant export click on "Inbox " icon.
After that click on "Export" button, on left click.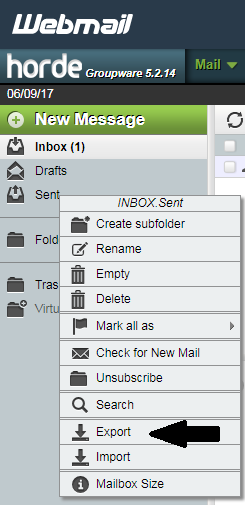 A popup will be appeared and ask you to download or uncompressed your emails file in the .zip-compressed .mbox file:
Then click on "OK" button and start the download of emails file in .mbox or zip file