Getting error while adding addon domain in cpanel account
There is an option for all domain authorities to create independent domains in cPanel. It implies as the addon domain in the cPanel. It runs on the different root of the documents and fetches the information in all turns. Moreover, addon domain and independent domain works with same procedure but differs at some point.
Let us see what is addon domain is:
In the control panel, the main functional domains can have addon domains. It might have different packages but same functionalities. Most of the developers, doesn't love to show the addon domain in the main part and so no kind of evidences can be seen to identify the addon domain.
Step 1:
In the cPanel, login as administrator with correct credentials and search for the option "
Domain
".
Step 2:
After clicking on the domain, there is an option called "
addon domain
". There you can see more fields such as
name of the new domain, category
etc.

Step 3:
Whenever, you add the new domain it will first consider as
subdomain
and then the cPanel will create document root and subdomain accordingly.
Step 4:
In middle, you might get error mostly related to the technical problems. If it's so, please carried on with below steps:
"Could not determine the nameserver IP address for "domain.com"

First cross check whether the domain is properly added into the main domain. Check the validity too.
Step 5:
In the WHM, login properly and in main page, you have option called
server configuration
.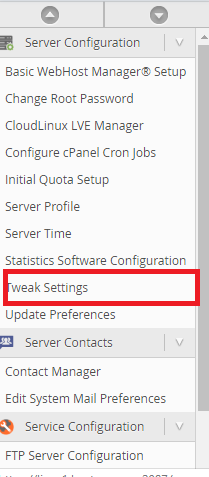 Step 6:
From that select the option called
tweak settings
. In the tweak settings, there are more tabs. Choose
the tab "domain" and then click on the option "allow unregistered domains".

Step 7:
Find whether it is turn off or on. If it is turn on, then leave it. If it is turn off, then change the settings to turn off.
Here is a tip for you when you create addon domain:
In the public_html directory, a folder will be created.
For the primary domain, a new subdomain is created. It also mingled with new folders.
Subdomain and new domain name are associated at same time.
Friends! This method is very easy and no need to go for deep search. Just create addon domain and keep it silently without any evidence.