Compression of files – Whenever you send a file from one place to another the act of file compression takes place. The browser of the visitor will automatically start the process of decomposing it and file rendering takes place. The file compression is solidly gzipped in format and to know the reason for compression nothing to wonder about the performance of the website. If the file size is more it takes more space in the website and so, the loading time of the website gets delayed. Visitors won't love to wait for the loading time at any cause.
To bring more performance to the website and to reduce the loading time you can go for file compression. Even your website is looked at by Google when it notes your websites does a good job! By doing the website content optimization, you are not going to lose or gains from anything so, without finding any second reason kindly proceed with the content optimization.
Step 1:
Go to cPanel using your credentials to log in. Go to the section "
Software
" and then tap on the icon or link "
Optimize website
".

Step 2:
Now, you can see the information box of compression. If you haven't got the .zip file then get details from your host.
Step 3:
Below, you can see the option "
compress content
" and so it has three options such as disabled, compresses all content and compresses the specific MIME type.
Do select on "Disabled" option for disabling compressing files.
One note over here is you can fully compress the files whatever you want. It won't show you any error to compress your files! For this, you can select the second option "Compress all content".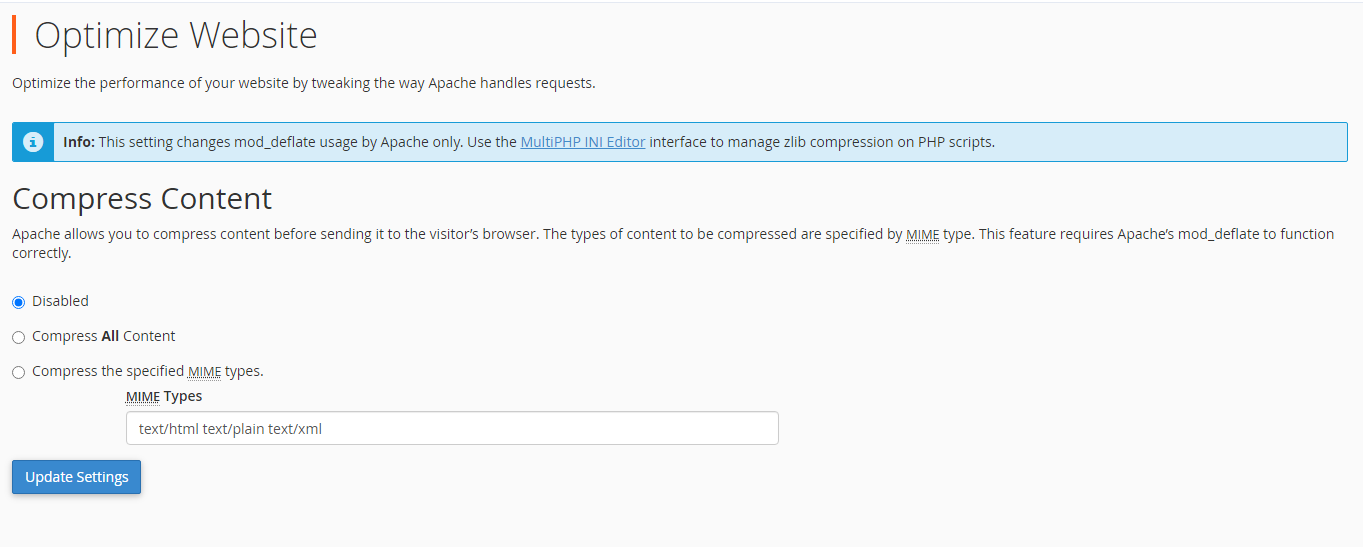 Step 4:
Tap on the button "
Update settings
".
How to compress MIME type files?
If you would love to get file compression only for a specific file type like MIME then select the third option "
Compress specific MIME Type
".
Your website may use many file types and so, it is known as the MIME type. You can see an example like text/html text/plain text/xml etc in the below box of the MIME type.
Step 5:
Once done, tap on the button "
update settings
".
Whenever your cPanel noted the enable of compression, it is automatically updated in the .htaccess file. If you don't see it then it will automatically create the .htaccess file.
Hereby, you would know the importance of file compression whenever you work on the internet. It's a big deal between your search engines and visitors!