How to Backup Your Exim Configuration?
Exim is the tool that facilitates mail transfer on a Linux server. This basically is a message transfer agent that ships along with cPanel and WHM by default. When you're dealing with cPanel as an admin, you'll come across the Exim Configuration manager by navigating into Home>Service Configuration>Exim Configuration Manager. This useful tool was developed at the University of Cambridge and is offered for free under the GNU General Public License. From time to time, you will require to reset, backup, and restore your Exim.
Why backup your Exim Configuration Manager?
Exim adopts the SMTP or Simple Mail Transfer Protocol to exchange emails from one server to another. But since SMTP is a relatively simple protocol, this makes it vulnerable to abuse from email spammers. They can easily tweak and falsify headers to avoid being spammed. Therefore, email admins make changes or configure Exim as per their requirement to prevent spam attacks.
For making changes to Exim, there are Basic Editor and Advanced Editor available in cPanel. You can use either one of them. You are free to configure things like routing, content and virus scanning, authentication, performance among other things.
Spam prevention is just one reason of configuring Exim. Other reason might be to send email through a different IP address. By configuring, you tell Exim to send emails from a particular domain dedicated IP address and not use the server primary IP address that is set by default.
As you make these changes constantly over a period of them, you need to take a backup. This is to make sure if anything happen with the cPanel or WHM, the changes made are not wiped off. You'd have a backup copy with which you can easily restore the configurations.
How to Perform the Backup?
Backups for Exim Configurations are pretty much similar to other backups. You can either take the backup in the server itself or download a copy of it to your local computer. Both of these methods serve the same purpose: to keep your configurations in a safe place for use in the future.
Here are the steps involved for backing up your Exim Configuration Manager:
Login to your WHM using the correct admin credentials.
Navigate into Home >> Service Configuration >> Exim Configuration Manager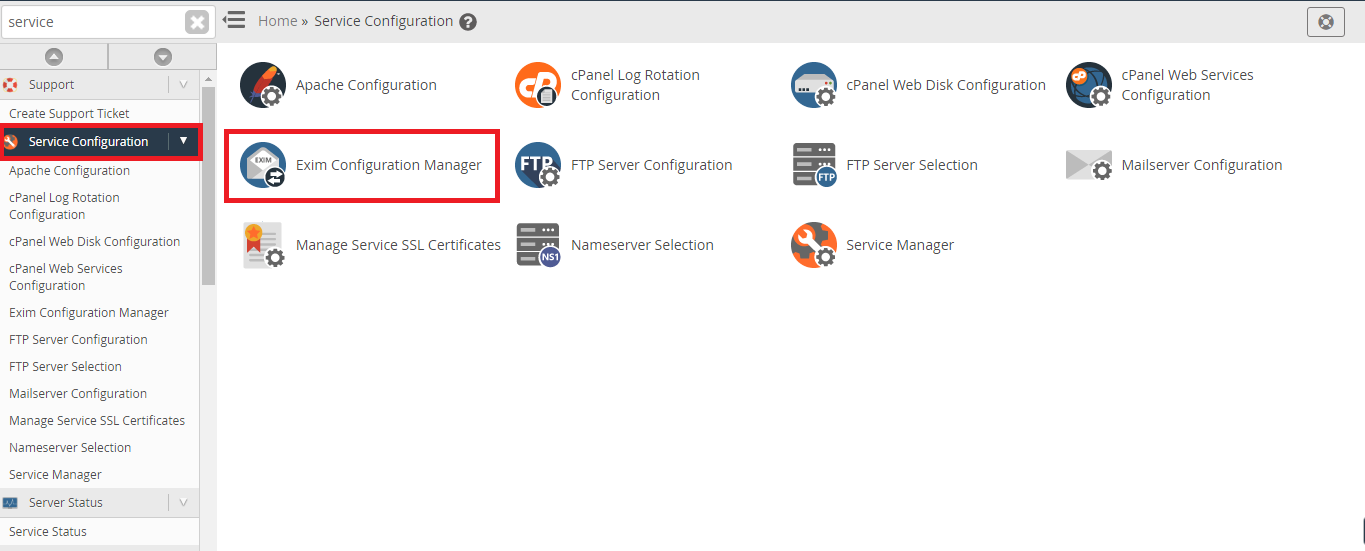 Inside the Exim configuration manager, you'll find a "Backup" option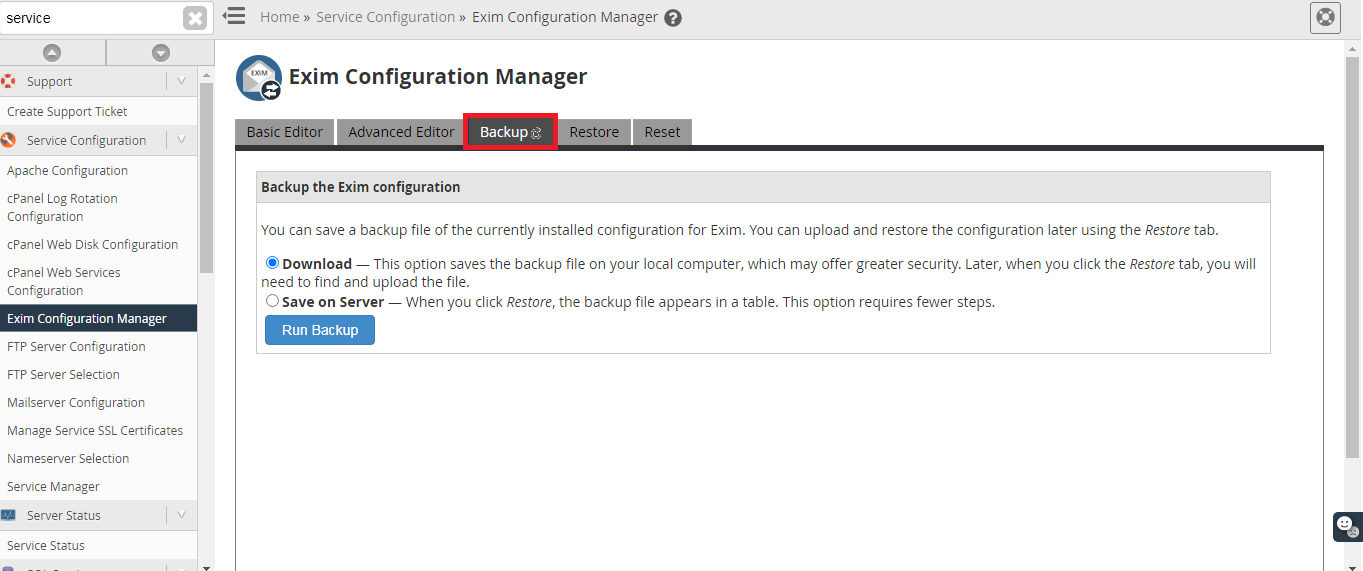 Here you'll have two options:
Download
– This option will save a copy of the current configuration to your local computer in zip format
Save on Server
– This will save a backup file on the server which you can use by clicking on the "Restore" button
Choose your preferred option and hit the "Run Backup" button
Now you've successfully take a backup of your current Exim configuration. It's recommended that you take the backups regularly (ideally once a week) so that the subsequent changes you make are saved to the backup file. If you face any problem with backing up or restoring your Exim configuration file, please get in touch with the hosting provider.