Administrator
Staff member
We always install wordpress manually but its little bit time consuming, cpanel provides an option to install all the applications easily. We can use softaculous Apps installer to install wordpress in cpanel.
You can install your application with one click. You can follow below steps:
Login to cpanel.
Click on "Softaculous Apps Installer" under "Software" section.
Now you have to search for Wordpress in search bar and click on "Install".
You have to enter all the details about your installation, like installation URL, Site Settings, Admin Account, choose language, Select any additional plugin, Select Theme etc.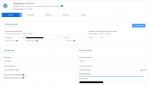 You can also choose advanced options for other settings.
Now you can click on "Install".
After that you can see the installation completed message.